DEC 5 2016
A birthday bash to remember!

It's 4pm and we're the first of many acts to arrive at Granville's Brasserie for Linda's 50th birthday bash! Linda is a good friend of the Dexter's also a fellow musician, and a talented one @ that. (Look out for links below)



Gravilles is a quaint rustic music bar that sits snug in the centre of the lovely town of Stone. Over the years Granville's has evolved into one of "Staffordshire's BEST KNOWN RESTAURANTS AND LIVE MUSIC VENUES" it has welcomed thousands of customers of all ages throughout the last two and a half decades, including such celebrities as Sir Cliff Richard, Lulu, Jasper Conran, Paul Jones, Billy Bragg, Feargal Sharkey, Ian Duncan Smith, not to mention such celebrity chefs as Paul Rankin, Mary Berry, James Tanner, Anthony Worrall-Thompson and The Hairy Bikers!

We've played at this venue many of times! we love it here, but tonight it had a different feel about the place! you know when you just know your in for a good night. I have to say this wasn't your ordinary birthday party, some would say it was set up like mini concert, we certainly thought it was. The attention to detail was outstanding, we even had an itinerary each. VIP passes
We we're fed & watered AND (big and we're all on the main stage BOOM (Glastonbury eat your heart out)

Linda's love of live music was the main driving force, the whole evening was geared around some of her favourite music and acts. Which included us! Nice one. We knew we were going to be sharing the stage with some amazingly talented musicians and bands tonight and we were thrilled at the thought.

Tonight was especially a nice set up for us as Live Wires another of Linda's act's had already set up their equipment for the night and kindly offered us the opportunity to sound check & use their equipment for our set. WOW fellow musicians reading this will know what a kind gesture this really was. I have to say these guys were genuinely lovely people with the exact same passion and approach to their music as us! we all hit it off almost immediately. More on live wires to follow.

And we're off.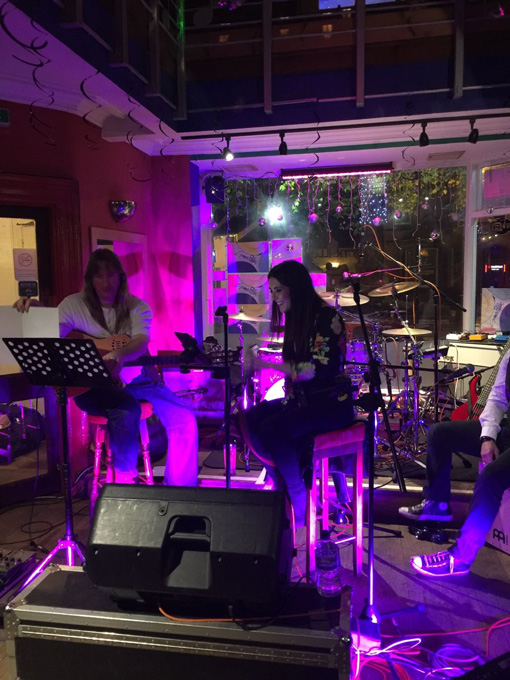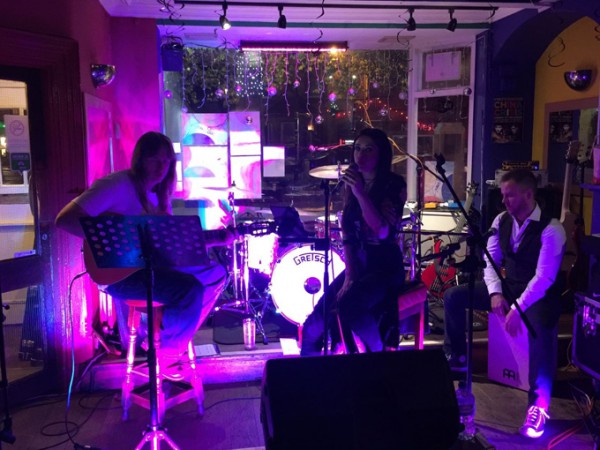 1st up 6pm Cat & Steve Jones with an intimate acoustic set accompanied by Steve Kelly on the Cajon drum. Cat and Steve started the night off easing the guests in gently covering songs by - Marvin Gaye, Jessie J The Mamas & The Papas, KT Tunstall, Adele and many more..... it was a great way to open the night.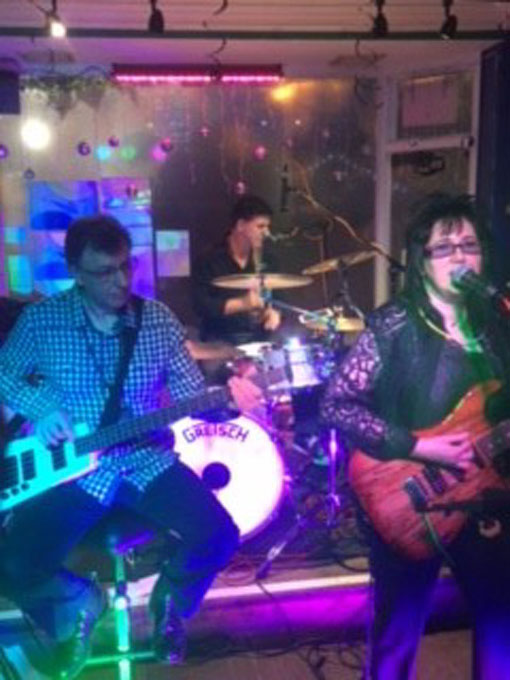 Up next 7:30pm Guest band - accompanied by Martin Hill on drums from Dexter.

This was Linda's and her partner Jackie's band! They played some awesome covers putting there own stamp on Sweet home Alabama amongst others. But what made them stand out from the rest was when they played their own material. It's not very often you hear a song an immediately like it, but their music was authentic and original with a feel good factor very quickly the room was up dancing.

They got a fantastic response and rightly so.

I even got my hands on there LP at the end of the night I enjoyed the music that much.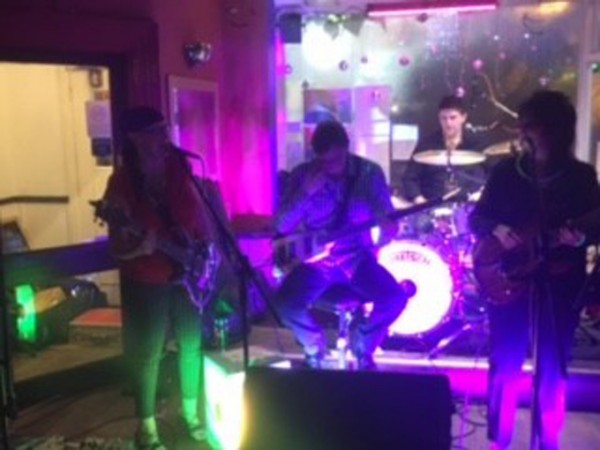 Linda rocking out on the guitar.

8:15pm the nights in full swing drinks are flowing and the vibe in the room is pretty awesome. It's now time For the birthday girls speech.
What a speech it was. Linda took us back she reminisced, made us heckle with laughter! dropped a few people in it and expressed sincere joy for us all being there to celebrate her 50th Birthday. Linda has lived a fruitful life and is one awesome lady, a great friend to many many people and from what I saw brings nothing but joy to many lives. She loved to talk and tells stories but loved to dance and drink even more so stopped it there. Let's face it she was laying the rest of us to do the entertaining.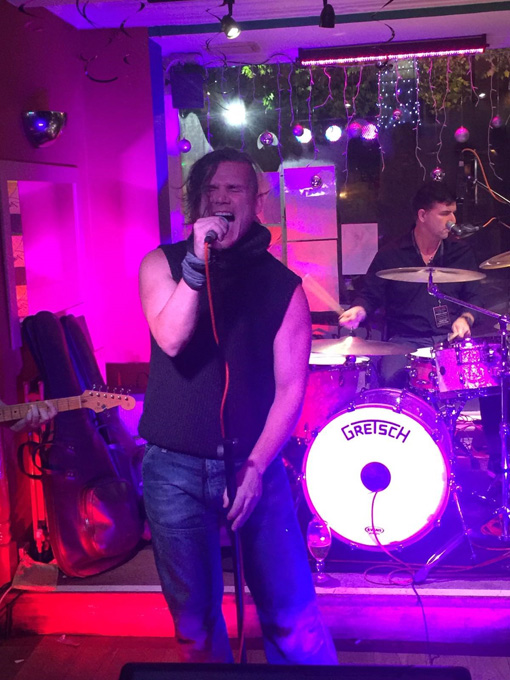 8:45 - 9:15 Allen Kent accompanied by Dexter.

Allen is a rocker through to his core when he sings he's truly memorising, his stage presence is immense. He's multitalented! A musician who sings, plays guitar, the yukelalie & aside from this he writes, records and produces his own work. Also a videographer/photographer fitness coach, full time daddy and husband and the list goes on la dee da dee dee! you see what I'm saying about multi talented.

Check him out -: www.reverbnation.com/allenkent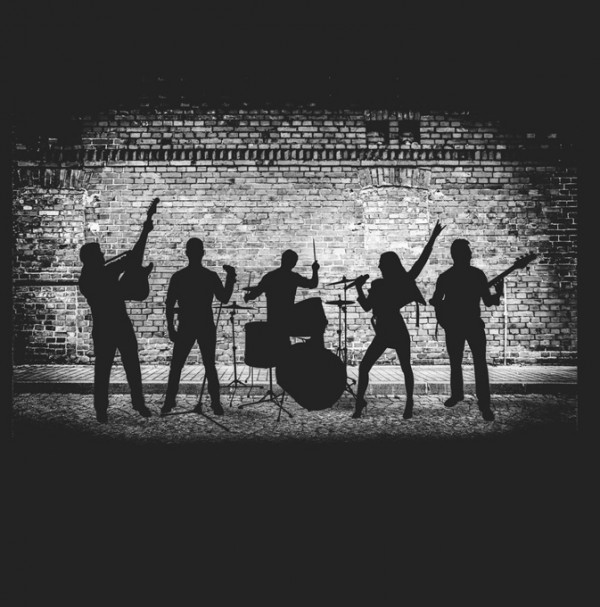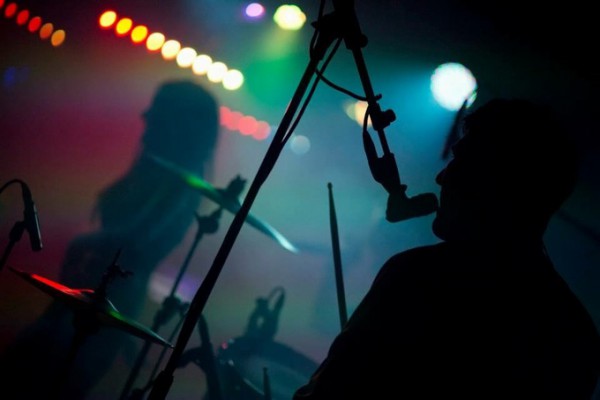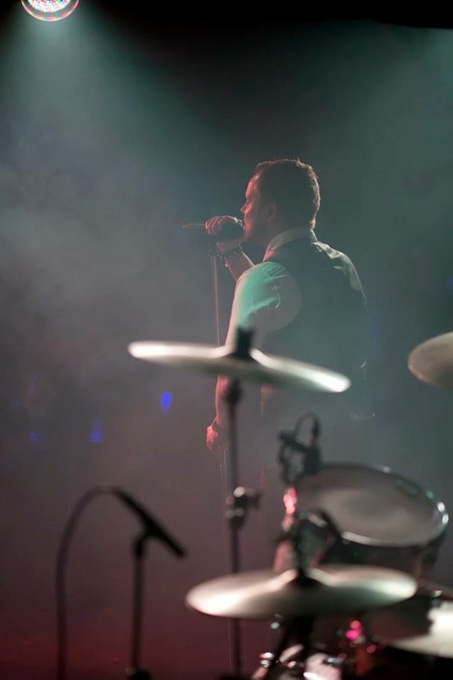 Up next Dexter - that's us!
www.dexterband.co.uk

This isnt awkward at all
#blowingourowntrumpet and all that...

But what I can say is every member of Dexter loves what we do. That joy and energy comes of the stage in waves and when combined with the fantastic sounds that this band can produce it's almost impossible as an audience member to resist being caught up in it. And when that happens, there is no better place to be in the world than standing on that stage and knowing that you're lucky enough to be a part of it.

A live set from Dexter encompasses over five decades worth of pop classics! guaranteed floor fillers and sing-along favourites but tonight our love of Funk and soul was most defiantly apparent to the guests. Over the years our love for this genre of music has defiantly heightened it's a style we do incredibly well and all 5 Member excel in this style. It was a fantastic set enjoyed by a and we truly rocked out! we could have quite easily have carried on all night but our set soon had to come to an end ready for the finishing act to wrap the night up and end with a bang.

And that was the wonderful act known as Live Wires.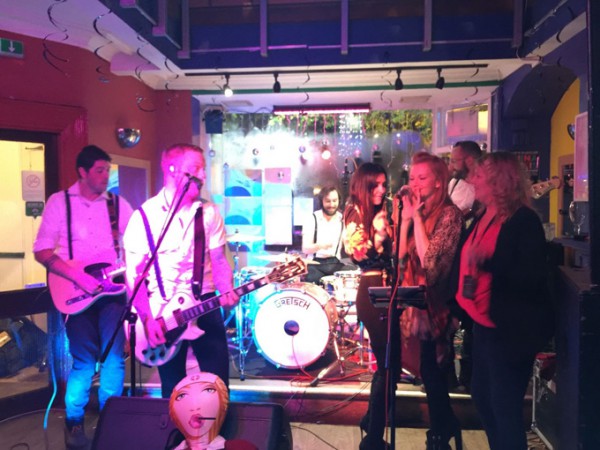 Here they are in action! They even got the ladies up for a sing song, which didn't take much persuasion

Live Wires are young, energetic and exceptionally talented & professional band who took us back to the 80s. They expressed a love for this era of music as they introduced themselves, and they were happy to find that they were about to play to a room full of people who also shared the same love for this decade. We all waited in anticipation whilst they were tuning up and then boom opening up with Everybody Wants To Rule The World - Tears For Fears, a true 80s classic which I would say was their signature song the sound was electric. They certainly knew how to smash a gig & what a way to end a night.

It's a wrap

The night had come to an end then Birthday girl was over joyed at the response and had a night to remember. I went away and reflected of the evening and What was so compelling about this evening was how all the acts engaged with each-other not a sniff of competitiveness in the air and why should there be? This was an endearing quality that all of us shared. Each act we're all very different they all had their own definitive style which meant we all complimented eachother. We all had a common ground! A love of music, the same passion and approach to our work, to people and to life. This meant we we're all able to sit back enjoy throughly enjoy each-others work. Honestly If felt quite special to witness and be apart of this day.

A huge thank you to Linda and Jackie for putting on such a wonderful evening and allowing us to be apart of it.
Comments